Mr. Athula Ranwala : Recently appointed as the CEO of Martin Bauer Hayleys Limited.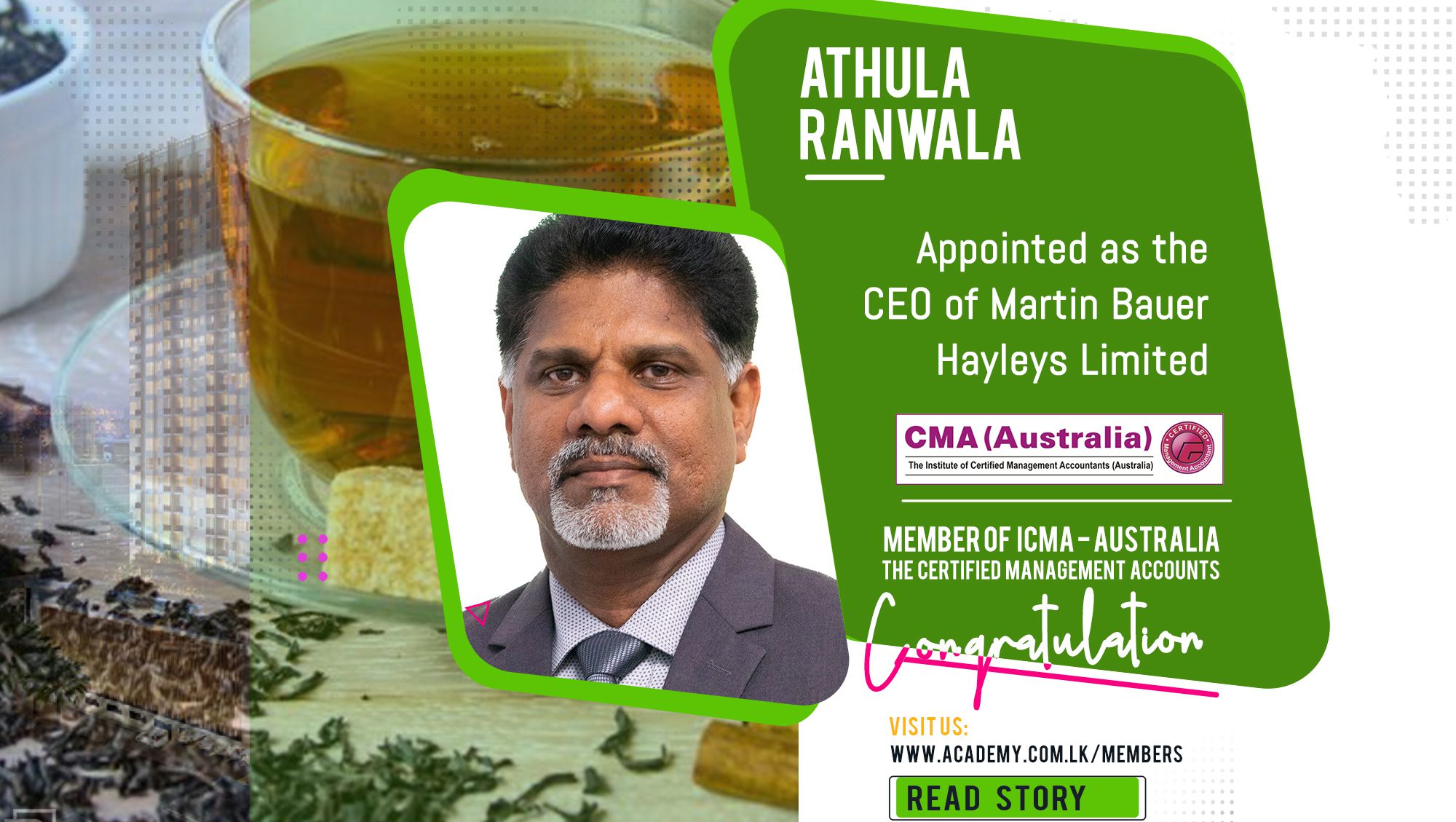 Mr. Athula Ranwala
Recently appointed as the CEO of Martin Bauer Hayleys Limited.
Mr. Athula Ranwala was recently appointed as the CEO of Martin Bauer Hayleys Limited, a joint venture company between Hayleys Sri Lanka and the Global giant in botanical extracts, Martin Bauer Holdings Germany. Martin Bauer Hayleys manufactures pure Ceylon instant tea extracts and tea aroma for the export market.
Athula is a senior food manufacturing professional who has over 30 years of vast and varied experience in various disciplines of food manufacturing in Sri Lanka and overseas. He joined Martin Bauer Hayleys as the Chief Operating Officer in 2021 and later in 2022 company entrusted him to hold the reigns to drive the company forward as the CEO.
He is a product of Ananda College Colombo, from where he entered the University of Colombo to follow an Honest degree in Science. Having graduated from University of Colombo he managed to go to UK and followed a MSc in Food Science in The Robert Gordon University in UK. He Is also a holder of MBA from Asia "e" University Malaysia, a Quality Management Diploma from Sri Lanka Standards Institute (SLSI), and a Higher Diploma in General Management from the National University Singapore (NUS).
After obtaining his Masters's in Food Science he joined Joseph Robertson Limited as the Technical Manager, which is one of the largest and oldest value-added fish products manufacturing companies in Aberdeen Scotland. Having served Robertsons for a few years Athula returned back to Sri Lanka and Joined, Coco Lands Limited a Board of Investment approved coconut milk manufacturing project as the Quality assurance Manager.
After completing two years spell at Coco Lands Athula joined Ceylon Biscuits Limited, by far the most diversified and the largest family owned food manufacturing company in Sr Lanka, as the QA Manager. He was later promoted to the post of Plant Manager and subsequently to the post of General Manager of Manufacturing where he was overseeing the entire manufacturing function including Engineering and Warehousing.
Ceylon Biscuits Group, the largest FMCG conglomerate in the food industry manufactures biscuits, chocolates, wafers, cakes, soy products, cereals, snacks, and dehydrated fruits. CBL possesses the strongest brands in the food industry such as Munchee, Tiara, Ritzbury and has the market leadership in all categories it competes in. He served 17 long years at CBL group in various positions and then joined Martin Bauer Hayleys in 2021.
During over 30 years of the career, Athula was  able to  gain extensive training and exposure in countries like Thailand, UK, Denmark, Japan, Singapore, and India, on production, problem solving in businesses, Japanese Management techniques, General management, Lean manufacturing, Manufacturing excellence, and people management.
He currently provides voluntary services to most of the public and private universities in Sri Lanka as an external supervisor for undergraduates. Athula is a Highly motivated and a good communicator with a genuine interest in maintaining high standards of professional knowledge and competence.
There are four stages in the ICMA Graduate Management Accountant programme, with four subjects in each stage. Stage Four of the graduate management program which has multiple – graduate, professional and postgraduate entry points is considered as the Graduate Conversion Programme. Candidates will be required to complete up to four subjects in different combinations depending on their respective entry qualifications.
Simply send us your details, we will get back to you with more information.
The complete qualification you will have to complete up to four subjects of the Graduate Conversion Programme depending on your current qualification/s.
You may call us now. Our programme coordinators will guide you through!