CFI – Certified Banking & Credit Analyst (CBCA)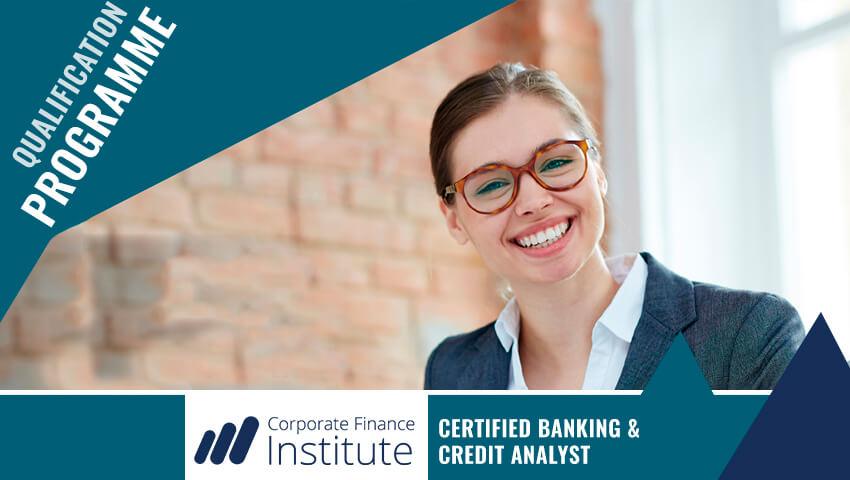 Earn your Banking & Credit Certification in only a few months.
The CBCA credit analyst certification program teaches you the skills that will help you stand out as a world-class credit analyst. Gain a competitive edge in commercial banking with advanced knowledge, real-world analysis skills, and career confidence.
The CBCA Program is designed to teach you all the skills you need to excel on the job as a credit analyst. The courses will walk you through the entire credit process from start to finish, including how to read business financial information, how to analyze financial statements, how to assess a company's capacity for debt, how to establish covenants, how to assess collateral and liquidity, and much more!
Not only will you have specialized knowledge, you'll also gain:
Confidence in your career
Knowledge of advanced material
Skills for the real world
Experience performing real analysis

Who should study for CBCA?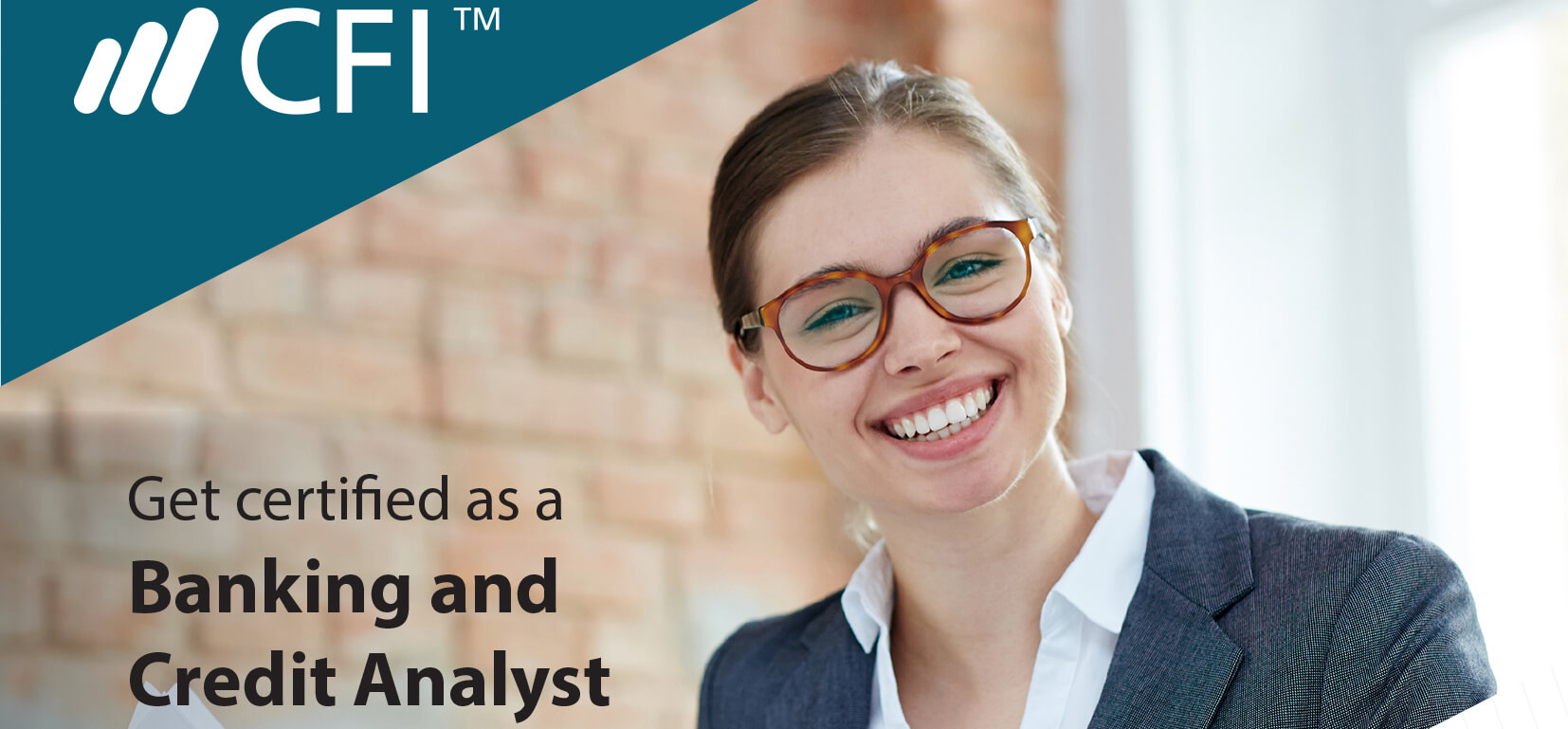 The courses offered by CFI will help professionals on all industries as well as organizations to develop talent, up skill their workforce, and elevate organization. Individuals above age of 18 eligible to study this programme.
Specially for:
Commercial Banking
Business Banking
Corporate Banking
Rating Agencies
Corporate Credit Analysis
Real Estate Lending
Risk Management
Treasury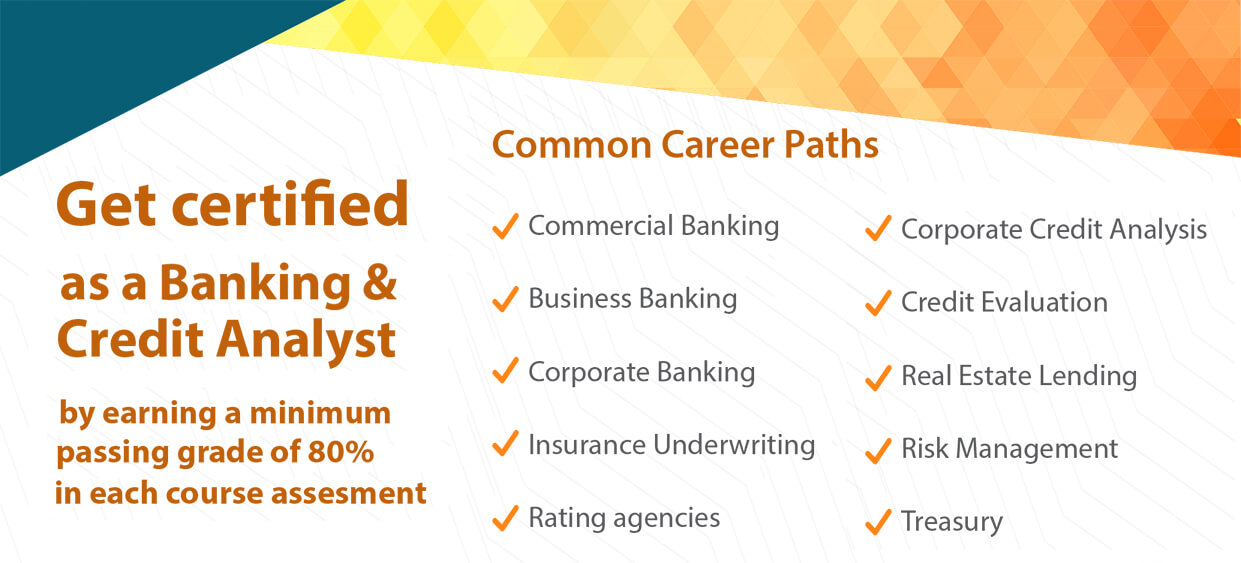 How is the qualification structured?
CBCA courses and exams are completely online. You decide when and where you want to study to get your financial certification. Whether you currently have a full-time job or are still in school, you have the flexibility of studying on your own time. All you need is a computer and internet access.
To become Certified Banking & Credit Analyst (CBCA), students must complete all Fourteen (14) required altogether out of eighteen.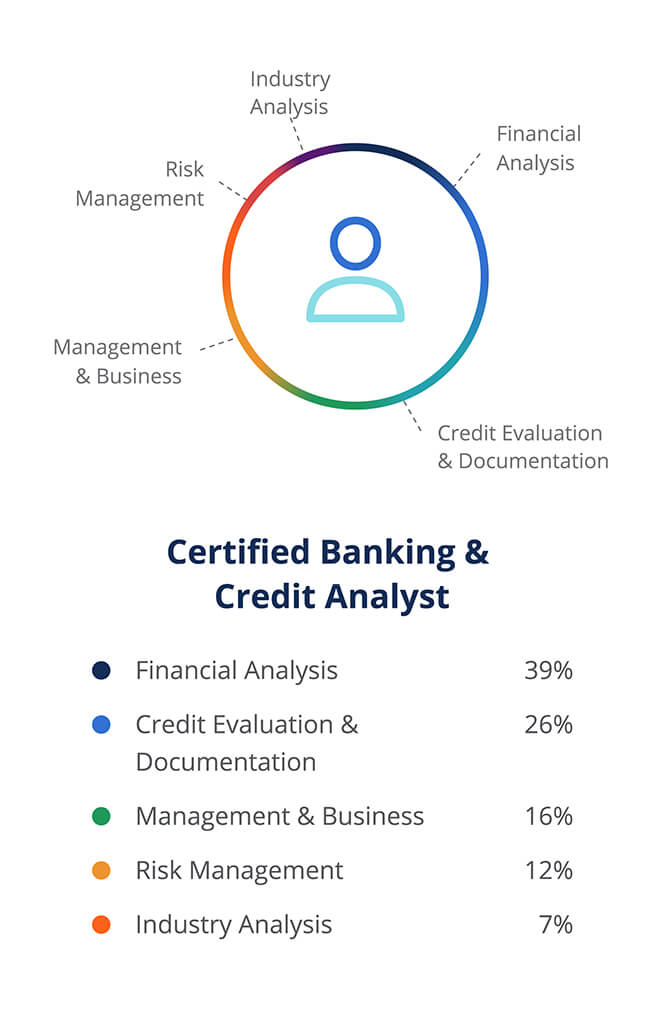 CBCA certification programe is,
Comprehensive with 18+ courses, 100+ hours of video training, and Excel & document templates
Convenient which is 100% online, at your own pace, on your own schedule, with life time access
Real world
Affordable
Tuition options for CBCA can be chosen from the following structures;
CBCA self-study programme
CBCA full online immersion
CBCA self-study coupled with Academy of Finance blended programme
---
How are the examinations structured?
The examinations are conducted online. Within three to four days after completing the examinations, the certificate will be sent to your mail address.
Students are required to complete an online qualified assessment
Can take the exams at your own schedule
80% to pass the course and earn your certificate of course completion.
Exams can be repeated as many times as you need without extra payment
Core Courses (14 Required)
5 C's of Credit
Reading Business Financial Information
Evaluating a Business Plan
Assessing Drivers of Business Growth
Assessing Management
Cash Flow Cycles and Analysis
Financial Analysis Fundamentals
Building a 3 Statement Financial Model
Loan Security
Loan Covenants
Credit Administration and Documentation
Account Monitoring and Warning Signs
Business Writing Fundamentals
Completing a Credit Application
Simply send us your details to receive further details.
Kindly note that the $50+ discount is applicable when you're applying through Academy of Finance. 
Or just call us, our programme coordinators will guide you through!
Why study Certified Banking & Credit Analyst Programe?
The Ultimate Credit Analyst Training System designed to teach you all the skills you need to excel on the job as a credit analyst. By the end of the program, you'll understand the entire lending process from start to finish, including origination, negotiation, underwriting, documentation, closing, booking, and funding. As a certified credit analyst, your CBCA designation sets you apart from the competition in a competitive job market.
The Global Corporate Finance Society( GCFS )board regularly reviews the CBCA program to ensure relevancy and industry standards are being met. By regularly examining the credit analyst certification curriculum, the GCFS board is able to ensure CBCA course include the latest possible trends. Therefore, the students' knowledge in credit and banking brushedup and updated to compete in the job market.
Key Features
Corporate Finance Institute® is registered with the National Association of State Boards of Accountancy (NASBA) as a sponsor of continuing professional education (CPE) on the National Registry of CPE Sponsors.CFI online courses count as verifiable CPE credits for CPAs and other accounting designation holders. Students can earn 115.5 CPE credits in total, after successfully completing all courses in CFI's program.
Lifetime access to course library of free technical financial resources developed to help and advance career path. This vast technical resources will teach the most important topics including, accounting, economics, finance, financial modeling, trading, investing, business valuation, strategy, deals, and transaction.
Downloadable e- books on accounting, finance, economics, trading and investing, strategy, investment banking, Excel, interview prep, and other important businesses topics are great source of self-study material for learning and development
Multi-Modality feature in the program engage learning content, realistic case studies, and interactive exercises from industry-leading instructors
100% online world class learning content with the flexibility to access courses anytime and anywhere in the world
Practical applications in Excel & PowerPoint give skills that can be applied on the job right away
Study Options :
*Online | *Blended learning | *Full immersion
You can follow the programme
At any time, from anywhere in the world at your own pace.